Compact Mode is the default starting mode of the MST Choreo HUD. It only contains a button panel and does not have a text list panel. It is used for configuration and general-purpose shortcuts.
Compact Mode Buttons


"Power" button hides / shows the HUD
"Emergency Stop" button will stop all active animations
"Help" Shortcut will print out a link to this website (only visible to you)
"Gear Configuration" button will pop up a blue dialog box with a number of administrative functions (see below sections)

(OPTIONAL) "MetaHarpers Logo" button will activate a previously paired MST Performance Engine, as if you clicked that object. This can be a very useful shortcut when working with MetaHarper Show Tools engines for rezzing, cameras, and event timelines. You may choose to hide or show this button by editing the "~HUD_CONFIG" notecard

Configuration Menu Choices (General)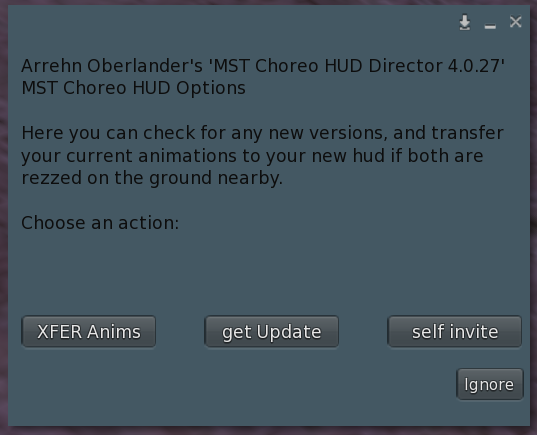 "get Update" will check if your MST Choreo HUD is the latest version. If it is not, it will send you the newest version.
"XFER Anims" is used when upgrading your MST Choreo HUD. Rez both your old and new HUD on the ground. On the OLDER hud, click the gear menu and choose "XFER Anims". Your animations will be transferred to your new hud.
"self invite" will toggle the wearer from being affected by the HUD's animation control. It is on by default. Using this button is useful if you want to animate other people, but not yourself.
Configuration Menu Choices (For MetaHarper Show Tools users)
The following configuration menu options are useful to people also using the MetaHarper Show Tools suite of tools. If you are not using these tools, you can ignore these options.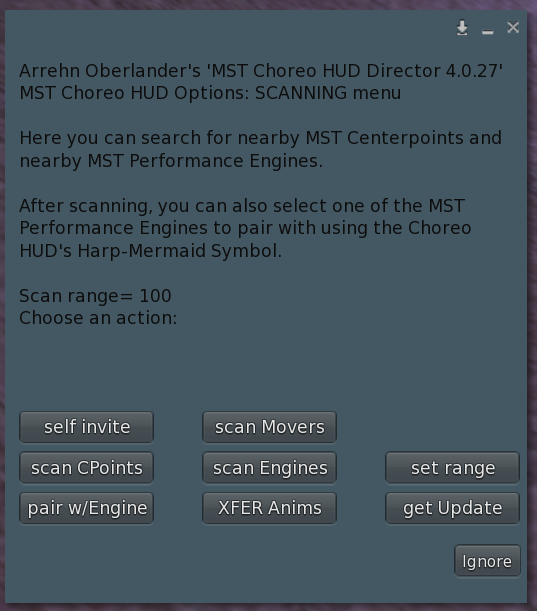 "set range" is used when using MST Choreo HUD along with the MetaHarper Show Tools suite. It will set the distance to scan for show tools components.
"scan CPoints" will print out in nearby chat (only visible to you) the names and locations of any Show Tools centerpoints nearby. This is handy for determining if you have inadvertantly rezzed more than you needed, or for configuring your MST engines to work with specific venues.
"scan Engines" will print out in nearby chat (only visible to you) the names and locations of any Show Tools Performance Engines nearby. This is handy for checking that you don't have more rezzed than you expect, and also you need to do this if you wish to pair your Choreo HUD with a particular engine in the last option, below.
"scan Movers" will tell you the name of nearby MST movers.
"pair w/Engine" will let you pair the MetaHarpers Logo button (looks like a harp-mermaid) with an MST Performance Engine of your choice, so that every time you click the logo button, it will activate that particular performance engine's menu as if you clicked the engine directly . This can save a lot of time since you no longer need to cam over to where the performance engine is to activate it.