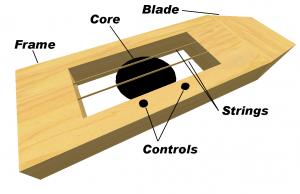 The main elements of the harp are the core, frame, controls, strings and blades. The above image shows one of the simplest possible harps, made from a few basic prims and without any interesting textures.
This is only the general configuration. Not all elements need to be equally pronounced, some can be merely hinted at, others elaborated upon. You can make them from basic prims, sculptures, mesh, or reused parts of other modifiable objects in your inventory. Making harps from recycled objects is an especially popular way to make something interesting quickly.
There are at least as many harps as there are harpers. Harp making is addictive! There are big harps and small ones, mean and cute, violent or dreamy, dark or light, lavish or severe. It is your instrument, and rumor has it that harps speak not only when played or wielded in battle, sometimes they tell tales about their wearer.
Images of a few more elaborate harps are below. You can also see a larger selection of harp images on the roof of the Nova Theater within Second Life.