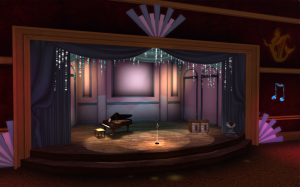 Ever since Gabba Loon installed our community theater in the historic virtual city of Nova Albion, we have entertained the idea that the theater is a public resource that anyone can book, ideally without any lead time.
It turns out that booking a performance venue in Second Life is often more work than one would expect. Typically the performer needs to be added to a land group so that performer can set up their music stream. They may also need to change textures or rez items in world to support their show. Then, after the show, this often has to be undone. It's a hands-on progress that doesn't lend itself well to spontaneous use.
We were talking about how we could encourage spontaneous public use of the theater and I thought we could automate many of the above tasks using LSL scripts. Last weekend I'd added smarts to our Miramare theater to do just this. Now, when anyone walks onto the stage, if the stage isn't already being used, the would-be performer is asked if they would like to set the music stream. They can also optionally have a top hat for tips put out which forwards tips to their account with prominent notifications. Finally, a poster in the background of the stage can optionally change to display the performer's profile picture.
The music stream, the tip hat, and the theater backdrop poster are reset when the performer leaves the stage after a grace period, and the stage becomes free for the next person to use. We hope that this will encourage more spontaneous use by DJs, or anyone who wants a quick venue to hold an event at any time.
If anyone's interested in this technology for your own venue, please contact Arrehn Oberlander.